What is co-authoring?
Where multiple people are collaborating on the same document at the same time.
DMF 9 and AOI 7 added support for co-authoring with Word documents.
How to enable co-authoring with DMF and AOI
The DMF option Auto check-out Word documents on open should be disabled (unticked) by each user in order to use co-authoring, as it's not possible to co-author checked out files.

Each user can then open the same document and other users in the co-authoring session are displayed in the ribbon.

How does co-authoring work with DMF and AOI
Learn more about AOI functionality.
Documents opened using DMF allow native Word co-authoring functionality such as changes being tracked by the green highlights when each user presses the Word save button.

Users enabling AutoSave will see changes in near real-time.

While coauthoring, each user's saves may cause additional versions to be created in SharePoint.
This document started at version 1.0 and while two users were editing two additional versions were created, incrementing to version 3.0.


AOI functionality becomes available when the document is closed by the last user in the co-authoring session.
This user controls the version and any comments it may contain.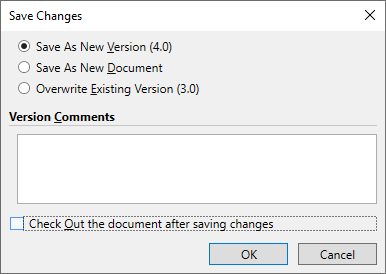 Things to note
The AOI Save Changes functionality is disabled when there are multiple users co-authoring and clicking Save as to SharePoint invokes the standard DMF Save As behaviour.
Requirements
DMF 9
AOI 7
Office 2016/2019 or O365
SharePoint Online