MacroView products require an active license before they will function. Activating and/or refreshing licenses differs between SharePoint Online (Office 365) and SharePoint Server (on-premises).
You will need to refresh your license when additional products or add-ons are added to an existing license key.
SharePoint Online (Office 365) or Client Side Only
MacroView licenses for SharePoint Online (Office 365) and Client Side Only are managed via the MacroView Licensing Website.
To refresh a license:
Sign-in to the MacroView Licensing website
Select Licences then Summary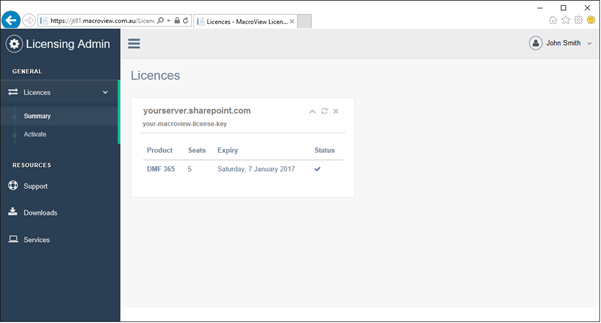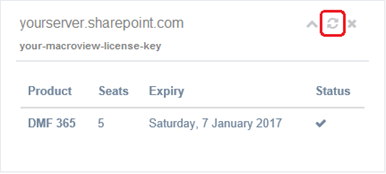 Select products to activate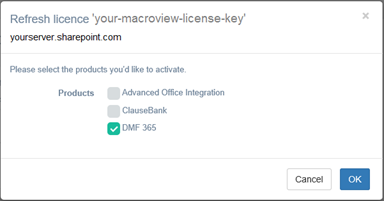 For more information, refer to Managing MacroView 365 and Client Side Only licenses.
The new license will be picked up when the DMS local service is next restarted on each computer. To force an update of the license:
Navigate to the DMS Options dialog:

In Outlook, go to the MacroView tab, then choose Options.
In MacroView DMS, select the File tab, then choose Options.

Select the Support tab.
Click on the

Refresh Licenses

button.
Any new license changes, including plug-ins, will now be available for use.
On-premises SharePoint
MacroView licenses for on-premises SharePoint are managed by a MacroView License Activation web service running on a central MacroView server. Before it can be used from a client workstation the newly installed MacroView DMS web service must be activated. If changes have been made to the license the license must be refreshed to pick up the changes.
There are different methods for refreshing the license depending on whether the server has internet connectivity or not.
Online license refresh
Open the SharePoint Central Administration console.
On SharePoint Server select System Settings and under MacroView Licensing click on Manage product licensing.
Click Online Activation.
When your license key is shown click Next.
Ensure the required products are selected and click Finish.
If your SharePoint server has Internet connectivity, the MacroView Activation feature will automatically connect to the MacroView License Activation web service, send details of your installation and collect your unique license activation key.
The MacroView Activation feature will record license key details in the configuration database for the SharePoint Farm. The license key contains (in encrypted form) your "Customer Details", "License Expiry Date" and "Licensed Seat Count".
Offline license refresh
If your server fails to activate using the Online method, then on a computer with internet connectivity, navigate to http://www.macroview.com.au/licensing.
On this page, you will need to enter your License Key and upload the Activation Request file.
You will be prompted to save a License (XML) file. This file can then be uploaded into the "License Activation" page in Central Administration to complete the activation process.