Summary
When using MacroView AOI in a co-authoring session the document reference field sometimes updates and displays an incomplete version number. This occurs when Word performs a save to refresh the document with changes from the server.
This issue can persist throughout the coauthoring session until the last user closes the document. AOI then creates the selected version and the document reference is properly updated.
Further Information
The underlying mvRef custom property that's linked to the field contains the correct value but the field does update and display the correct value during a coauthoring session. This appears to be a coauthoring limitation and occurs when any custom property-linked field is updated.
Right-clicking the field and selecting 'Update Field' refreshes the field with the expected property value however if there are other users continuing to coauthor the displayed value may become incorrect when the next Word save occurs.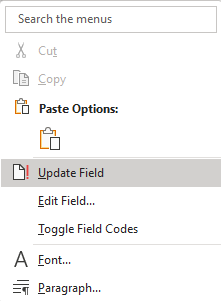 The screenshot below shows the document reference field not displaying the minor version component during coauthoring:
This issue can be replicated using standard Word while co-authoring and working with Fields that are attached to custom properties, even when MacroView AOI is not installed.